10-Year-Old GameStop Investor Turns $60 Into $3,000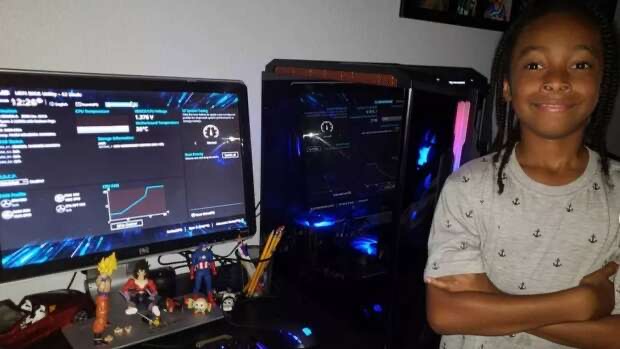 10-year-old fifth-grader Jaydyn Carr has gone viral for cashing out more than $3,000 on a $60 GameStop investment.
In 2019, Jaydyn was gifted 10 GameStop shares from his mother, Nina Carr as a Kwanzaa gift. The investment became productive in a short while after the stock price of GameStop skyrocketed over 1500%, allowing the young investor to enjoy over $3,000 worth of profits.
"I am going to save $2,200 of it and the rest… I'm going to invest in more companies," said Jaydyn.
The latest stock market frenzy sparked by an online investors community, the Reddit WallStreetBets, has left many investors richer within the space of seven days.
The Reddit WallStreetBets group started an epic war against Wall Street, last week, which resulted in many Reddit traders buying up shares of underpriced and struggling companies, including GameStop and AMC. The group was particular about stocks that Wall Street had betted against.
The symbolic move by WallStreetBets traders caused the stock price of GameStop to soar dramatically. The stock price skyrocketed from $18 per share at the beginning of the year to a 52-week high of $483 last Thursday.
"My phone was going off because I have GameStop on my watch list," Jaydyn's Mom said. "I was trying to explain to him that this was unusual, I asked him, 'do you want to stay or sell?"
Without thinking twice about his decision, Jaydyn pushed to sell, as he was determined to capitalize on his investment in the stock market.
"I wanted to sell it then and there because I knew it could drop in seconds," Jaydyn said.
Choosing GameStop shares over video games as a Kwanzaa gift came naturally for Jaydyn, due to his love for video games.
"We were always there two years ago, just buying different video games," Nina Carr said. "I was like, 'I can give him the shares of the GameStop and give him something tangible to hold on to, and that way he can appreciate it that way."
The $60 worth of GameStop shares was given to Jaydyn in place of an Xbox One. Nina printed out the stock certificate, framed it, and wrapped it as a gift for Jaydyn.
"It was very cool that I got stock in one of the companies that I mostly used," Jaydyn said.
At the time, he didn't quite understand the value of the stock certificate but his mum helped him to understand that it was a long-term investment that would be worth a lot of money.
"We're African American. You don't see a lot of that in our community," she said. "I wanted to give him a step up when it comes to learning these things because I learned it later in life and I wish I had known sooner."
Mrs. Carr took responsibility for her son since his father died in 2014. She is determined to make sure Jaydyn is financially sound as much as possible to prepare him for the future.