Alibaba stock saw high demand following Hong Kong debut, stock goes higher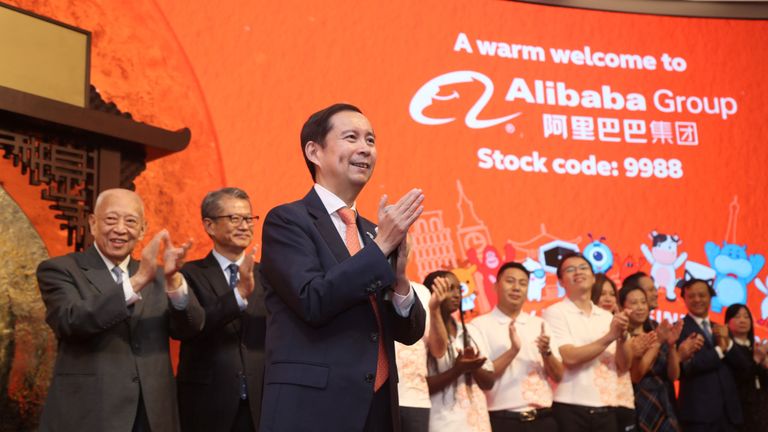 On Tuesday morning, shares of Chinese e-commerce giant, Alibaba (BABA), saw a strong debut in Hong Kong after being listed in the Stock Market and priced at 176 Hong Kong dollars which is approximately $22.5 in us dollars. This made Alibaba shares the largest listing in the world so far.
Alibaba is China's biggest online commerce company and has these three major sites- Taobao, Tmall and Alibaba.com. They have hundreds of millions of users and host millions of merchants and businesses. Last year, the transactions on its online site totalled $248 billion exceeding those of eBay and Amazon combined. After raising $25 billion from its U.S. IPO, Alibaba became one of the most valuable technology companies and ranks as one of China's most valuable public companies.
After the shares of Alibaba were listed in the Hong Kong stock market, there was more than a 6% surge around the 9:00 am opening time, before hitting an intraday high of 189.5 Hong Kong dollars per share. It closed around 7% above its listing price by afternoon.
Alibaba issued 500 million new ordinary shares and 75 million extra "greenshoe" options.
According to CNBC, several stock analysts described the listing of Alibaba in Hong Kong stock listing as "pretty successful and positive". Alibaba's offering is a huge boost for the Hong Kong market, where businesses have been slow due to the ongoing pro-democracy protest which have escalated in recent weeks.
Alibaba's secondary listing in Hong Kong stock has been the largest in the world since 2019. This is larger than the approximately $8 billion raised by Uber in May.
According to Bloomberg, Alibaba's listing in the Hong Kong stock market brings it closer to its home market and Chinese investors. The company could become eligible for trading via the two links with China, which allows investors on the other side of the border to buy and sell shares listed in the former British colony.
Alibaba Stock symbol is BABA and it's trading at $194.70
USD
+4.25
After hours
194.01
−0.69
(0.35%)
| | |
| --- | --- |
| Open | 190.39 |
| High | 195.00 |
| Low | 189.04 |
| Mkt cap | 520.50B |
| P/E ratio | 23.59 |
| | |
| --- | --- |
| Div yield | - |
| Prev close | 190.45 |
| 52-wk high | 195.72 |
| 52-wk low | 129.77 |
The stock's 52-week price mark is $195.72 and it's currently trading at $129.77. The market cap is $520 billion dollars. The stock has potentials to grow, however, Amazon is the investors's favourite for now. As a result, Investinport thinks Amazon is a better buy.
Disclaimer: Investoport and its staff do not own Alibaba at the moment.