Affirm shares plummet 21% after company releases financial results early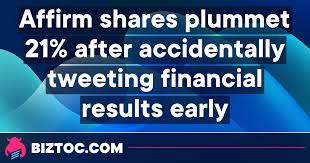 Affirm shares plummet 21% after company releases financial results early
As part of the inaugural portfolio of startup studio HVF, Max Levchin, Nathan Gettings, Jeffrey Kaditz, and Alex Rampell established Affirm in 2012. In 2014, Levchin, who co-founded PayPal, was named CEO of Affirm.
The company released a consumer app in October 2017 that permitted loans for purchases at any merchant.
In February 2019, the company formed a relationship with Walmart. Customers can use Affirm in-store and on the Walmart website as part of the agreement.
Shopify, BigCommerce, and Zen-Cart are among the e-commerce platforms with which Affirm has partnered to work with.
Affirm filed with the Securities and Exchange Commission on November 18, 2020, in preparation for an initial public offering (IPO). Affirm's initial public offering (IPO) was postponed on December 12, 2020, according to reports. Affirm went public on NASDAQ with the symbol AFRM on January 13, 2021, raising $1.2 billion in it's initial public offering. The price of shares had doubled the next day, valuing Levchin's holding at $2.5 billion. Returnly, a financial technology service provider, was also bought by Affirm in May 2021.
In the United States, Affirm is Amazon's exclusive buy now, pay later partner until January 2023.
In the final hour of trading on Thursday, Affirm (AFRM) shares fell and were temporarily suspended for volatility after the buy-now-pay-later startup announced its quarterly results during market hours, missing sales expectations. The announcement came after an unintentional tweet during the trading session that revealed a portion of the data. The stock ended the day at $58.68, down 21%.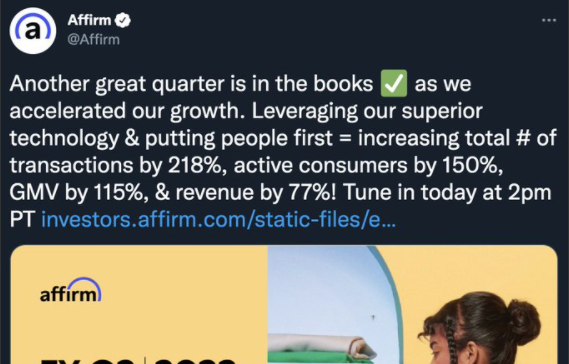 During the trading day, shares were in the green ahead of the results. Before 2 p.m. ET, a tweet was made with some of the company's latest quarterly figures, including a rise in the number of transactions and active consumers, and then promptly deleted.
Market watchers, on the other hand, took screenshots of the tweet. Following the remark on Twitter, the stock originally rose by around 10%, but later lost part of those gains.
The company released its full quarterly results at 2:48 p.m. ET, later explaining that "a small amount" of Affirm's fiscal Q2 numbers were "inadvertently tweeted" due to a "human error."
Due to human error, a small portion of Affirm's fiscal Q2 results were inadvertently tweeted from Affirm's official Twitter account earlier today. Affirm has since issued its complete fiscal Q2 results, which are available at https://t.co/kQLTu8O9Vv.

— Affirm (@Affirm) February 10, 2022
For the quarter ending in December, here's how the company fared compared to Refinitiv consensus expectations:
$0.57 loss per share
$361 million in revenue vs. $328.8 million projected
Affirm stated that revenue for the year would be between $1.29 billion and $1.31 billion, exceeding analysts' expectations of $1.27 billion.