Black Billionaire David Steward Net Worth 2020
| | |
| --- | --- |
| Date of Birth | 1951 (age 69) |
| Education | Central Missouri State University |
| Occupation | Founder and chairman of World Wide Technology |
| Board member of | Barnes-Jewish Hospital, Centene Corporation, Webster University, University of Missouri |
| Spouse(s) | Thelma Steward |
| Net worth | $4 billion |
David Steward is an American businessman, and the founder/chairman of World Wide Technology, one of the largest Black-owned businesses in America. He also doubles as the founder of Telcobuy, a global technology, and supply chain management company. Steward is among the five black billionaires in America.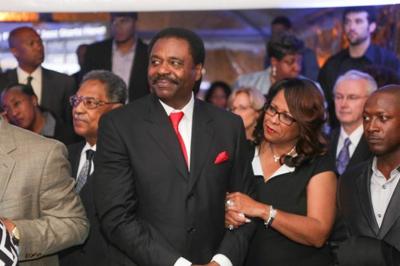 David and Thelma Steward at the recent unveiling of the Ferring Bistro in Grand Center, which the Steward Family Foundation endowed.
Photo by Wiley Price / St. Louis American

Early life and Education
David L. Steward was born in 1951 to the family of Dorothy and Harold Steward in Chicago Illinois. His father Harold was a mechanic, and his mother, a homemaker. Growing up as a child in Clinton, Missouri was poverty-driven for Steward and his parents. Years later, Steward had this to say about his childhood:
"I vividly remember segregation—separate schools, sitting in the balcony at the movie theater, being barred from the public swimming pool."
Regardless of his humble background of poverty and discrimination, Steward pursued his academic dreams. In 1973, he received his Bachelor's degree in business from Central Missouri State University.


Early Career
After he graduated from college, Steward got to work as a production manager at Wagner Electric, from 1974 to 1975. He then moved on to work as a sales representative at Missouri Pacific Railroad Company, from 1975 to 1979. He did so well at his job there and was voted as salesman of the year, and by 1981, he was inducted into the company's hall of fame in 1981. He soon started his own Transport Business Specialists and Transport Administrative Services business which led to the founding of World Wide Technology.
World Wide Technology
Steward founded World Wide Technology in 1990. Three years later, WWT placed much concentration on the implementation of enterprise-wide imaging, telecommunication networks, and conversion services. In 1999, WWT spun of its telecommunications unit to form Telcobuy.com. Both companies performed well as their sales continued to grow, until 2002 when revenues began to fall and World Wide Technology had to bear the burden of the technology recession. By the following year, reported revenues for both companies was a little over $1 billion, and Steward created World Wide Technology Holding Company to serve as the parent company for both companies.
In 2018, World Wide Technology's reported revenue was estimated to be more than $11 billion, which made it rank as one of St. Louis' largest private firms.