Jay Z net worth and biography
Jay Z is a successful mogul, he started as a rapper and he now owns many businesses, he officially became a billionaire recently.
| | |
| --- | --- |
| Date of Birth | December 4, 1969 |
| Education | High school drop out |
| Occupation | Entrepreneur, investor, music producer, rapper |
| Spouse(s) | Beyonce |
| Net worth | $1 billion |
Jay-Z is an American businessman, investor, music producer, and rapper. According to Forbes, he is the first hip-hop artist to become a billionaire. Some of Jay-Z's lifetime achievements awards include 21 Grammy Awards and 14 No.1 albums, according to the Billboard 200. In 2007, he created a successful business venture which includes an apparel line, the entertainment company Roc Nation, and a sports management agency Roc Nation Sports. He has also invested in a number of businesses and Brands including Armand de Brignac, a champagne brand nicknamed "Ace of Spades", and Tidal, a music streaming service. In his lifetime, Jay-Z has endorsed a number of products and brands such as Reebok shoes, Budweiser beer, Microsoft's Bing, and Hewlett-Packard computers.
Early life and Education
Jay-Z (born as Shawn Corey Carter) was born on December 4, 1969, to Gloria Carter and Corey Carter. He was raised in a housing project in Bedford-Stuyvesant, a Brooklyn neighborhood. His mother, Gloria was left alone to raise Jay-Z and his three siblings after their father left them. Jay-Z was 11 at the time. He later had this to say about that experience: "When you're growing up, your dad is your superhero. Once you've let yourself fall that in love with someone, once you put him on such a high pedestal and he lets you down, you never want to experience that pain again." Although Jay-Z grew up within harsh environments, one thing he remembers growing up with was music. I grew up in Marcy Projects in Brooklyn, and my mom and pop had an extensive record collection, so Michael Jackson and Stevie Wonder and all of those sounds and souls of Motown filled the house," he said. Jay-Z was enrolled at George Westinghouse Career and Technical Education High School, Downtown Brooklyn where he met with future rappers, The Notorious B.I.G, and Busta Rhymes. He was later transferred to Trenton Central High School in Trenton New Jersey. After a while, Jay-Z dropped out of school and began selling cocaine. All the while, he continued chasing his music career and writing music.
Business Career
How Jay Z became a Billionaire

In the late 1980s, Jay-Z finally began his musical career with a few appearances on his musical mentor's early recordings, Jaz-O. He also engaged in many rap battles in the early '90s, taking on rapper LL Cool J in some rap battles. It wasn't until 1994 that he reached a global audience after he featured on Big Daddy Kane album, Daddy's Home. Although he had gained global reach, Jay-Z couldn't still find a major label to sign him up. He then took it upon himself to sell his CDs from his car, and use the proceeds to start a record label with his two friends Damon Dash and Kareem Biggs. Together they started the Roc-A-Fella Records label in 1995. "I was forced to be an artist and a CEO from the beginning, so I was forced to be like a businessman because when I was trying to get a record deal, it was so hard to get a record deal on my own that it was either I give up or create my own company," he said. It hasn't been all sunshine for the rapper, Jay-Z, however, one thing he never did was give up on his dreams and ambitions. Jay-Z currently holds a fortune worth $1 billion after Forbes named him as the first hip-hop billionaire, a year ago. Though he is mostly known for his music career, Jay-Z's wealth streams in from multiple sources including his Armand de Brignanc champagne and D'Usse cognac spirit brands, real estate properties in Los Angeles, the Hamptons and Tribeca, and stakes in Uber and Robinhood. "I'm like, let's figure out how to bring new revenue streams into the business. So I went out on my own and I made a deal. To me, if you're not with the changing times, you're irrelevant to me. We're gonna move on. We're not trying to trick the system; I wasn't looking for a No.1 album."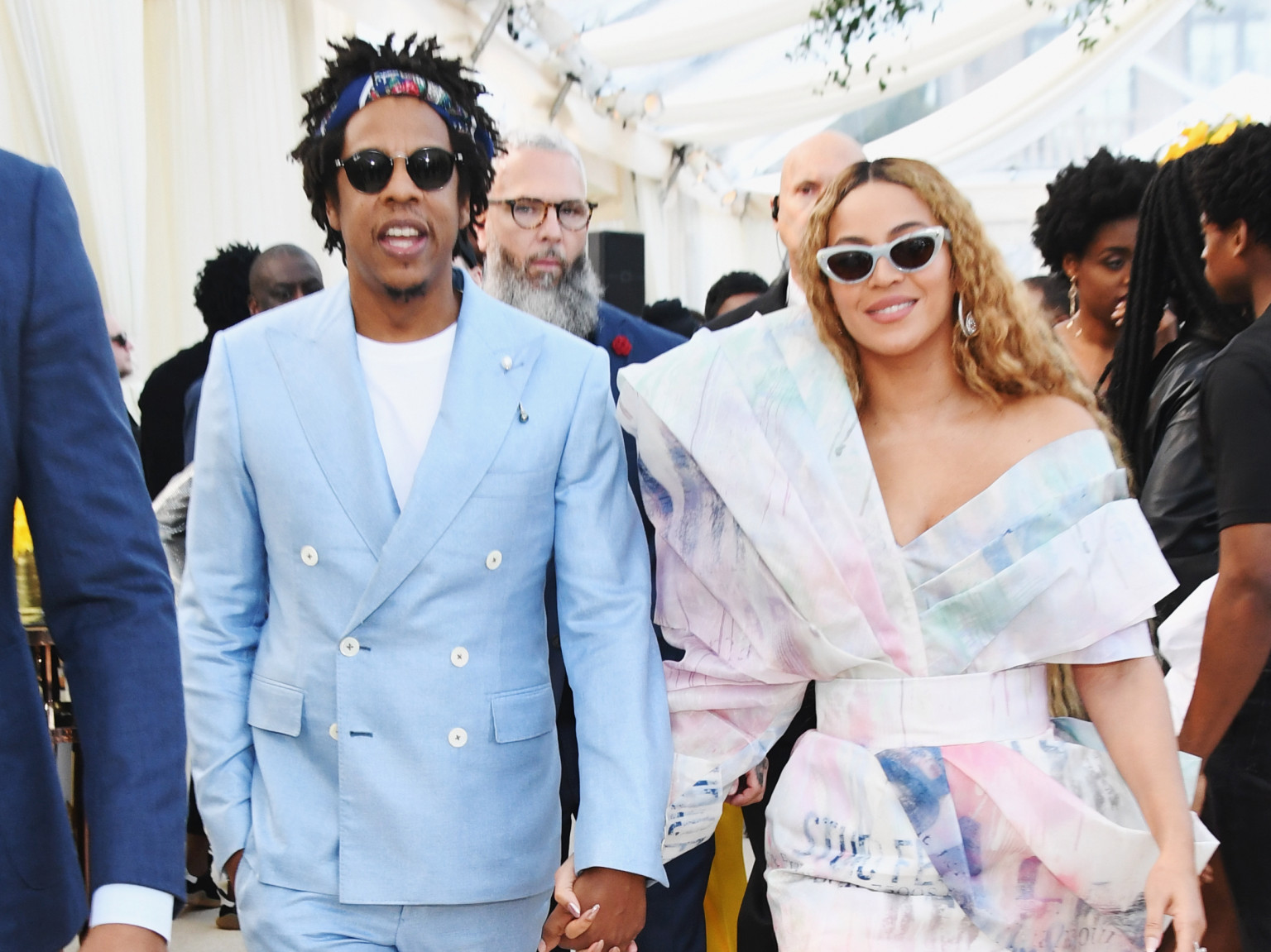 Personal life Jay-Z is married to fellow musician Beyoncé (net worth $355 million). Together they have three kids: Blue Ivy (born Jan.7, 2012), and twins, Sir and Rumi (born on June 13, 2017).