Lyft Q4 Stock Earning Report
Posted on February 12, 2020
By admin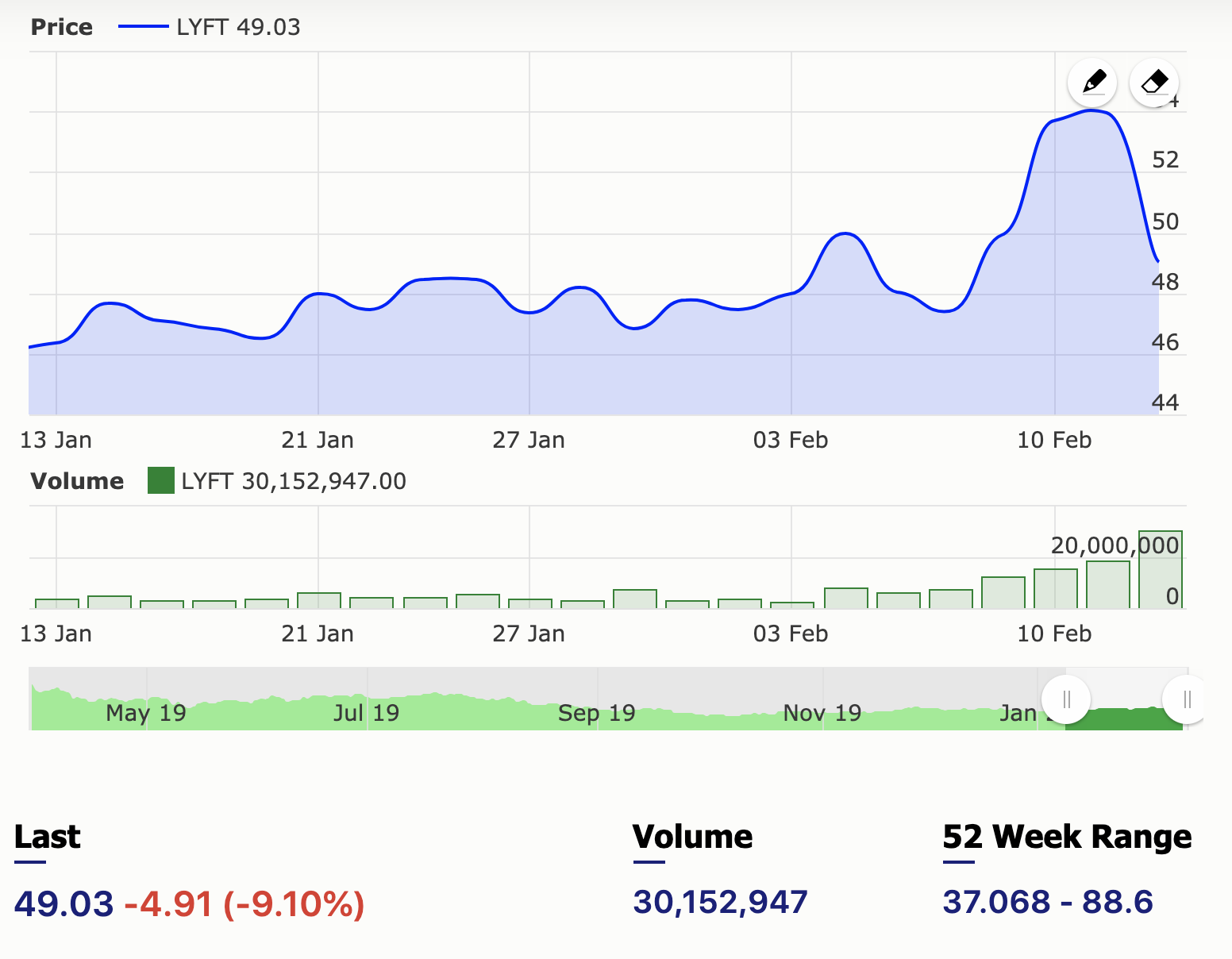 Lyft (LYFT) is a ride-hailing company very popular in the United States. Like Uber, the company has worked effortlessly to expand its reach across the shores of the United States. For a while now, Lyft has been losing a lot of money as it competes with its rival UBER. The competition between the two companies has resulted in a price war that has affected both its top and bottom line. But taking a look at the long-awaited fourth-quarter report released on the 11th of February, the performance of the company went far beyond their expectations.
Before the company's fourth-quarter report of 2019 that was released yesterday, in the third-quarter report, the company's revenue increased by 63% which is $955.6 million. The most significant improvement in the report is the growth of the company's rider by 28% to reach 22.3 million. Despite these positive improvements, the company attracted a net loss of $463.5 million. In fact, this net loss is far worse than the previous reports of $249.2 million loss.
However, the estimate of Lyft's fourth-quarter report blew past its expectations and predictions. In the new report, the revenue in the quarter increased by 52% to $1.02 billion exceeding the company's last report of $955.6 million. Not only this, there is a significant increase in the number of active riders and the revenue per active rider. Currently, Lyft active riders are 22.9 million while revenue per active rider increased by 23% to $44.40.
Bottom Line
Lyft adjusted EBITDA loss reduced from $251.1 million to $130.7 million as against the expected $163.2 million and $251.1 million Y/Y. The adjusted loss per share also reduced to $0.41 as against the expected $1.39.
Among the things that helped achieve this tremendous improvement is the company's marketing expense that was reduced by 14.4% to $186.9 million.
For the current quarter, the company reveals that revenue would be rising by 36-37% to $1.055 to $1.06 billion. The company is also working towards a first-rate adjusted EBITDA loss between $140 million and $145 million.
Lyft Plans For 2020
According to the Management of the company, this year, the company looks forward to earning through some very key initiatives. Part of which includes their current partnership with the JPMorgan Chase. This would enable cardholders to get additional benefits when they pay for rides with their Chase cards.
The company also made some changes in its micromobility section and relaunch their bikes which have been recorded to generate more riders per day than the traditional bikes.
Disclaimer: Investingport owns Lyft stocks.