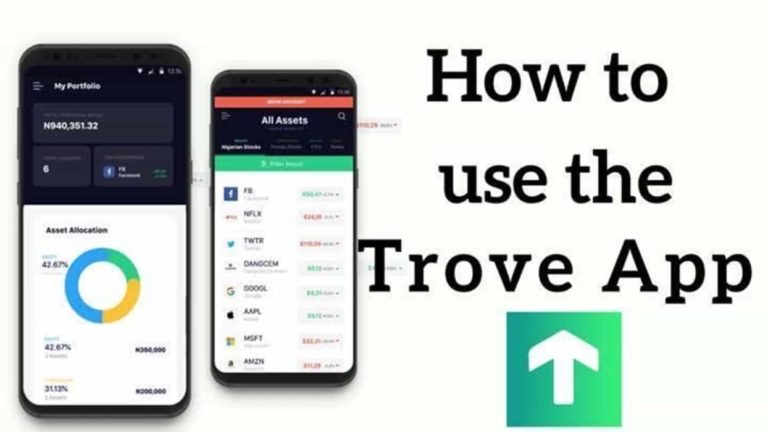 Investing in the US Stock market is a profitable investment since it is the largest stock market in the world with more than 50% of the value of the global stock market concentrated in the US. Currently, the NYSE (New York Stock Exchange) and NASDAQ have a combined market value of around $40.2 trillion. Comparatively, the market value of the Nigerian stock market is $38.3 billion.
It was challenging for Nigerians and other non-U.S. citizens to purchase American equities in the past. To invest in the US stock market, as a non-citizen, you must have a valid US visa or green card at the very least. But thanks to modern technologies, you can now invest in the US market from Nigeria, using a smartphone or computer.
Comparing many other asset types, it may be argued that equities offer the most growth potential. In comparison to real estate and many other fixed-income assets, they are also significantly liquid and diversifiable.
What is Trove?
Trove is the number one US stock digital investing platform in Nigeria. It is an investment app that tries to make investing simple and accessible for newbies to find and choose assets, particularly stocks and bonds. You can access stocks from publicly traded companies in Nigeria and the United States on Trove, along with different bonds, cryptocurrency assets, and mutual funds. Trove simplifies the whole microinvesting process from beginning to end.
With as little as N1000 or $10, you can invest in stocks, bonds, exchange-traded funds (ETFs), and other assets from the United States, China, and Nigeria using Trove.
Trove Investment Partners
Trove uses cutting-edge technology to store client's personal data and 256-bit encryption to ensure data security.
All US trading accounts on Trove are held by DriveWealth LLC, a self-clearing broker registered with FINRA/SIPC and a partner of Trove. Additionally, it secures up to $500,000 worth of securities holdings (with an additional $250,000 for cash claims).
All Nigerian trading accounts are held by Trove's additional partner, Sigma Securities Limited, a broker-dealer governed by the Securities and Exchange Commission and NSE (Nigerian Stock Exchange).
Benefits of investing in Trove
Low Minimums: Trove allows you to purchase US company stocks for as little as $10, in contrast to other digital investment platforms that have large minimums.
Fractional Investing: Trove offers the ability to purchase fractional shares of businesses like Apple, Google, Facebook, and others. Instead of purchasing a complete share, which might cost thousands of dollars, you can purchase a portion of a share with fractional shares.
How to start investing on Trove
1. Set up an account.
Register online or download the app from your preferred app store.
2. Fund your wallet.
Use your Verve, Mastercard, or Visa debit card, internet banking, or bank deposits to make payments.
3. Start Trading
You pick whether to buy and hold or trade frequently. Trade all you want.
4. Withdraw funds
Keep your spare cash in your mobile wallet or withdraw it at any time to your associated bank account.
Once your account has been set up you can use a debit card or bank transfer, to purchase any publicly listed equity, bond, or foreign asset as a one-time investment. Additionally, you may sell your assets directly from the app and have the money sent into your account. You may learn how to invest in a variety of financial assets using Trove.
Features of Trove
Platforms: Mobile app (iOS and Android)
Minimum Deposit: $10 is the minimal opening balance required.
Registration Documents: A scanned copy of your international passport and a utility bill or bank statement are required to be submitted during registration. Other requirements include a verified email address, active mobile number, and local b details.
Payment Options: Mastercard, VISA, and Verve cards are all available as payment options. Additionally, a bank transfer can be used to fund your wallet.
Security: Bank-Grade Encryption
Investment tracking: You may keep tabs on the performance of assets acquired using the Trove app.