Elon Musk will only support the Dogecoin movement if his demands are met.
Posted on February 21, 2021
By admin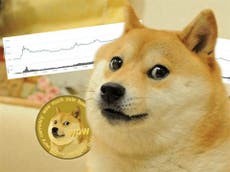 Dogecoin prices surged for a few weeks after Elon Musk endorsed it briefly, then he turned around and invested heavily in Bitcoin. As a result, some Dogecoin holders felt mislead and the Dogecoin price fell. They expected Elon Musk to also put his money into Dogecoin as a vote of confidence like he did with investing $1.5 billion into Bitcoin.
To read more about Tesla's 1.5 Billion investment into Bitcoin, please see the link below.
Tesla buys $1.5 billion worth of Bitcoin


Elon Musk is talking about Dogecoin again, he is ready to support the movement but that will come with a condition. He has a vast request before he endorses the cryptocurrency.
"If Major Dogecoin holders sell most of their coming, it will get my full support. " Musk tweeted. So far Dogecoin prices has tanked from its recent high. Tesla CEO Elon Musk is ready to support the movement but he needs some clarity on who owns the stock first. If he could get those guys to sell, then he said he will support the Dogecoin movement.
We will continue to follow this story and bring you more updates as they become available.