JetBlue CEO Says Their Growth Will Be The Strongest In The Aviation Industry By 2020
Posted on December 24, 2019
By admin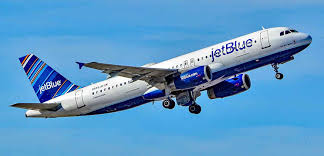 Chief Executive Officer of JetBlue (NASDAQ: JBLU), Robin Hayes, as well as other investment analysts on Wall Street, have cleared the company stock for landing into investor portfolio in the coming year.
Robin Hayes spoke on the First Trade segment of Yahoo Finance said, "I think we will have one of the strongest earnings growth stories of anyone in the airline industry from 2019 to 2020," He said he is very "confident" in JetBlue (JBLU) hitting its $2.50 to $3.00 per share profit outlook originally shared at an investor day in September 2018.
JetBlue is a major American low-cost airline and the seventh-largest in the United States based on the capacity of passengers that can be carried. JetBlue is headquartered in the Long Island City. The airline was founded in August 1998 and also generated a revenue of $7.658 billion in 2018. The company has assets worth $10.426 billion and over 22,000 employees.
In what may seem odd, stocks of JetBlue continues to trade as if the company is not one of the best run airlines around and it won't see major earnings growth acceleration in 2020 even though there are signs that it will. According to data obtained by Yahoo Finance, at a forward price-to-earnings multiple of 7.8 times, JetBlue's stock trades at a noticeable discount relative to airline rivals Delta (DAL) (8.9 times) and SouthWest (LUV) (10.3 times).
According to Yahoo Finance, JetBlue's stock trading at about $18 at last check is hovering around the company's $16.50 a share book value. Meanwhile, the Street is only modelling JetBlue's earnings of $2.39 a share in 2020, well below the outlook Hayes reiterated once again on Yahoo Finance's airwaves.
Hayes agreed that the Street is concerned about the revenue environment for JetBlue and the industry at large in 2020, following fears of excess capacity. This may not be the case because below the revenue line items are likely to increase the earnings of JetBlue in 2020.
Right now, JetBlue is almost at the end of hitting its target of lowering expenses by close to $300 million. The company unveiled a new $800 million stock buyback plan in October. And it is in the midst of a major fleet overhaul which will likely boost productivity.
Goldman Sachs analyst, Catherine O'Brien says: "We continue to believe that JetBlue's structural cost program and changes to its fleet will drive 2020 unit costs ex-fuel down year-over-year and that the company has several revenue initiatives that should drive outperformance vs. the industry. As such, we are forecasting that it will generate the highest level of margin expansion across our airlines coverage universe."
Well, in the coming year, Investing Port hopes to keep an eye on the stocks of JetBlue and take note of changes.