Domino's Pizza Sees Papa John's As Vulnerable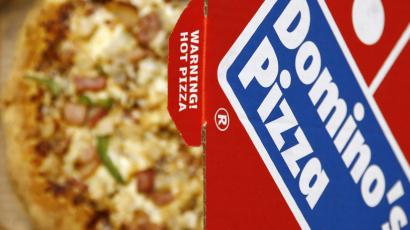 Recently, Investing Port published an article of Domino's Pizza CEO, Richard Allison issuing a warning of a possible shakeout to third party delivery companies. Right now, it seems pizza wars have already begun with Domino's Pizza CEO, Richard Allison having an interview with Yahoo Finance and taking another swipe at one of the industry's biggest brands.
Allison said, "Robert Lynch, the company's newly appointed CEO after a year of turmoil "brings a really good track record from Arby's. As a participant in the industry, I admire them. I think they did a nice job over there. Papa John's third-quarter I think stabilized the business a bit, but they are still down about ten points (on sales) from where they were two years ago. It's a brand that certainly has I think some equity out there in the marketplace...[but] the biggest problem they are going to have in the near-term is getting their franchisees back to the level of profitability where they get excited again about investing in the business. I know they are planning to continue to subsidize their franchise system in 2020, which if I was sitting in Louisville [Papa John's HQ] I would be doing the same thing most likely. I think getting their franchisees to a level of profitability where they can take them off the subsidy drug that will be the real turning point to that business if they can get to that place."
Expectations are high on Wall Street that Papa John's new CEO (who assumed office in August) can drive a successful turnaround in 2020. Papa John's stock has surged by 57% year to date on the back of excitement surrounding the well-regarded Lynch. A turnaround of Papa John's was also enhanced by Starboard's Jeff Smith after he injected $200 million into Papa John's in February. Smith is now chairman of the company, and helped lure Lynch to the team. Prior to Lynch's arrival, Papa John's stock and financials languished because of the use of a racist epithet on a company conference call. Smith and Lynch have worked together since the summer to develop turnaround strategies for Papa John's, which includes installing a new management team and offering royalty relief to Papa John's franchisees, which is expected to continue in the near term. Lynch is no stranger to dealing with franchisees, and one of his first acts as Papa John's CEO was to tour the country and listen to their concerns.
Lynch told analysts on a November 6 conference call that franchise owners were "very energized very excited and very committed to working with us collaboratively to get the system where it needs to be." And one of the next elements to Papa John's turnaround is to drive some product excitement in 2020. Adding some "wow" to the chain's menu as execs dealt with the crisis stoked by Schnatter's presence.
Papa John's North America same-store sales rose by 1% in the third quarter, a reversal from the 5.7% drop in the second quarter and better than Wall Street's estimates; of which Lynch said better traffic trends to its restaurants helped the brand. The adjusted operating profits for North America company-owned restaurants improved to $7.4 million, up from a slight loss a year ago.
Now it's up to Lynch to reignite the business, and return fire to Allison (and those at Pizza Hut) in 2020.