Federal Prosecutors Say Rudy Giuliani "Not Above The Law" and Can Be Searched.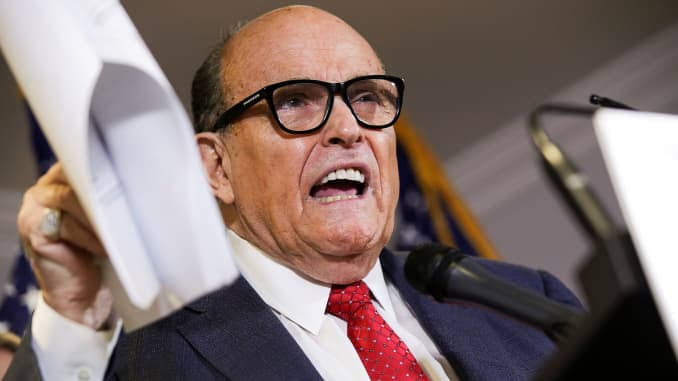 Rudy Giuliani, the attorney who represented former US President Donald Trump, has been deemed "not above the law" by federal prosecutors in a court filing on Friday. According to the prosecutors, the mere fact that Giuliani is a lawyer, and one who represented a former president doesn't make him immune to a criminal investigation.
This filing was issued as part of investigations into his involvement in criminal activities in Ukraine. Guiliani's lawyers earlier made moves to declare illegal the search warrants for his iCloud account since 2019, as well as his home and office in Manhattan.
In April, eighteen devices were seized as part of the warrants, all of which belonged to employees of Giuliani's firm and the former mayor of New York.
Guiliani's lawyers have argued that the search of his iCloud, which he was oblivious to until a few months ago, has violated his attorney-client privilege as he was Donald Trump's lawyer and communications between the two ought to have been private.
They also have said that the recent search warrants may be affected by their reliance on the previous information gotten from the iCloud search.
Victoria Toensing, a Republican lawyer, was also the subject of similar search warrants.
"The warrants authorizing the searches of those devices were issued by a United States District Judge — this Court — on a finding that there was probable cause to believe that those devices contained evidence, fruits, and instrumentalities of specified federal crimes," prosecutors from the office of the U.S. Attorney for the Southern District of New York wrote in their new filing in Manhattan federal court.
According to prosecutors, the search of devices and electronic accounts belonging to attorneys is given special care so as to protect the confidentiality of attorney-client communications that may be found in search materials. The prosecutors have said they went above and beyond those obligations, even to the extent of asking a judge to appoint a filter team to review the iCloud for any possibly useful material, which is kept away from the investigators.
"But, to be clear, the mere fact that Giuliani and Toensing are lawyers does not mean that they are above the law or immune to a criminal investigation," prosecutors wrote.
"Yet that is effectively what Giuliani and Toensing argue in their motions: because they are lawyers, the execution of search warrants, upon them was illegal and inappropriate, and as such they are entitled to the extraordinary and unprecedented remedy of converting lawfully-issued search warrants into subpoenas so that they can review their own materials and decide what the Government gets to see. That is not the law, and their requests otherwise should be denied," the filing said.
The prosecutors have also strongly argued in the filing that a judge should deny the requests made by Giuliani and Toensing to unseal the affidavits filed to obtain the warrants.
Arthur Aidala, Giuliani's lawyer, has argued against the prosecutors' filing.
In his statement to CNBC, he wrote, "Any lawyer has an attorney-client privilege that he must protect on behalf of his clients. That privilege is doubly enhanced when the lawyer's client is the President of the United States who also enjoys Executive privilege."
Giuliani played a key role in trying to sabotage Joe Biden's presidential aspiration. He made numerous attempts to dig up harmful information about President Biden and his son, Hunter, related to Hunter's business deals in Ukraine.